Drapeau Corporation
A dedicated family business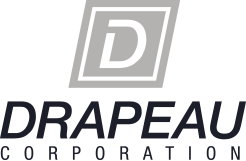 The Expertise of the Founder : the Foundations of the Company
The history of Drapeau Corporation begins in the 70s with Mr. François Drapeau, CEO and founder. His vision, knowledge and understanding of the field of the lifting equipment are the cornerstone of the company and still influence to this day the business model of the corporation.
A Consultant in Demand!
The expertise, experience and professionalism of Mr. Drapeau, particularly regarding cranes, bring him to become consultant on several important projects, among which some on an international scale. He so contributed to the realization of an impressive lifting gantry for Mali (Africa), to the tower crane to raise the tower of the Olympic stadium of Montreal as well as in the manufacturing of trailers for the New York City subway's cars on behalf of Bombardier. At that time, François Drapeau was a reference in this domain and invited as expert witness during accidents on workplace, in particular on construction sites of Hydro-Quebec's dams.
The Beginnings of Drapeau Corporation
In 1978, Mr. Drapeau decides to put all his know-how for the benefit of entrepreneurs by creating his own company of repair and certification of cranes. Referring to all these years when he offered a service of expertise-advice, he names the company Consultants F. Drapeau.
His sons, Daniel and Sylvain, who have a great interest for this type of equipment, join the company by the middle of the 80s, allowing the beginning of an important growth. At the beginning of the 90s, Nathalie joins the company, thereby ensuring that all the second generation is now involved on all levels.
A complete service: from sales to certification
Since 1995, it is now possible to buy equipment directly from Consultants F. Drapeau. Drapeau family wants to fill a lack of service in consulting/coaching for entrepreneurs. The experience must go beyond the simple purchase of equipment. At Drapeau, the customer is fully supported; ranging from advice on choosing the right equipment up to the permit application through certification and special projects: never seen in the industry!
This formula is so successful that in 2006, another subsidiary was born on the North Shore of Montreal: Équipements FDS.
Today, the second and third generations are very active in Drapeau Corporation and continue to place customer satisfaction at the heart of the activities of all subsidiaries of the group.
Drapeau Corporation in brief
Visionary founder » unique approach » colossal expertise » exemplary customer satisfaction.
Discover our web site and see how we can meet your needs!